All-Party Oireachtas Group on Penal Reform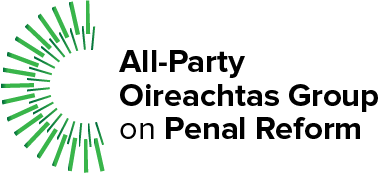 The All-Party Oireachtas Group on Penal Reform was established in 2021 and builds upon the previous All-Party Group on Penal Reform: Briefing Seminar Series, hosted by Deputy Ivana Bacik (then Senator).
The Group aims to provide an opportunity for members of all parties, across the Dáil and Seanad, to discuss penal reform issues, engage directly with leading experts in the field and work together to create positive and lasting reform of the Irish penal system. It particularly hopes to draw upon the penal reform recommendations made by previous Justice Committees in 2013 and 2018, and build consensus for implementing their recommendations.
The Group is co-chaired by Deputy Ivana Bacik and Deputy Alan Farrell. The Irish Penal Reform Trust provides secretariat support for the Group, as well as expert advice.
Activities of the Group to date have included:
the first open meeting for all TDs and Senators (April 2021), at which the Chief Inspector of Prisons spoke;
individual meetings with the Department of Justice to discuss penal reform priorities;
a meeting with the Chairperson of the High Level Taskforce on Mental Health and Addiction (May 2021);
a meeting with Chief Supt Colette Quinn (Director of Garda Youth Diversion Bureau) and Eddie D'Arcy (expert in youth justice, Solas Project); 
the second open meeting for all TDs and Senators (October 2021), which focused on spent convictions and mental health, with contributions from Senator Lynn Ruane and Pat Bergin (Head of Service, National Forensic Mental Health Service); 
a visit to Mountjoy and Dóchas Prisons by the co-chairs and the secretariat (March 2022); and
the third open meeting for all TDs and Senators (July 2022), which focused on women in prison, with contributions from women with lived experience from the SAOL Project (BRIO Programme), Maria Joyce (National Traveller Women's Forum) and Carol Conway (Chairperson of the Dochás Centre Visiting Committee).
the fourth open meeting for all TDs and Senators is due to take place in October 2023.
This page will be regularly updated with news of the Group's activities.