Governance & Best Practice
"We confirm that our organisation complies with The Governance Code for the Community, Voluntary and Charitable Sector in Ireland."
IPRT is committed to transparency and accountability around how we work. As an organisation that campaigns for full accountability in the penal system, we couldn't have it any other way. You can read the IPRT Constitution here.
Governance
In November 2014, IPRT completed the processes required to achieve full compliance with the Governance Code - a Code of Practice for Good Governance of Community, Voluntary and Charitable Organisations in Ireland. We reviewed our compliance with the code annually and did so most recently in May 2019. In 2018, the Charities Regulator issued its own governance code, the Charities Governance Code. Throughout 2019, the Board conducted a structured review of its compliance with the Charities Governance Code, and formally signed off on its compliance in November 2020.
Our signed Governance Code declaration can be viewed here.
Our board of trustees is listed here.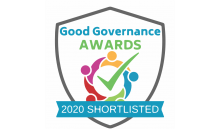 IPRT was shortlisted for the Carmichael Ireland 'Annual Report Award' in the Good Governance Awards 2020. 

IPRT Treasurer, Kevin Gregory, was shortlisted for Trustee of the Year at the Charity Impact Awards 2020. 
Transparency
IPRT is registered with the Companies Registration Office (CRO Number 218442) and with the Charities Regulator (Registered Charity Number 20029562) and Revenue (CHY Number 11091), and files regular returns to the Register of Lobbying.
We are also committed to complying with the Statement of Guiding Principles for Fundraising.
Financial Management and Accounts
Audited accounts are prepared annually, and approved at the AGM each year. Financial statements for previous years are included in the Annual Reports, and online. For full details on IPRT funding and financial management, including audited accounts for 2013, 2014, 2015, 2016, 2017, 2018 and 2019 see here. In 2015, we switched to FRS 102 SORP compliant accounts.

By formally adopting the Guidelines for Charitable Organisations on Fundraising from the Public, preparing annual financial statements in full compliance with the Charity SORP ((Statement of Recommended Practice under FRS102) which are easily accessible to the public on our website, and by formally adopting the Charities Governance Code, IPRT meets the requirements of triple lock standards – in the areas of transparent reporting, good fundraising and governance.

For a summary of IPRT's Financial Policies and Procedures see here.
If you have any questions on how our organisation is run, you can email info@iprt.ie and we will respond within three working days.
Feedback & Complaints
IPRT is committed to ensuring that all our communications and dealings with the general public and our supporters are of the highest possible standard. We are committed to listen and respond to the views of the general public and our supporters so that we can continue to improve. IPRT welcomes and actively seeks both positive and negative feedback. More information on IPRT's Feedback and Complaints policy is available here.
Documentation: