Global Prison Trends 2021
12th May 2021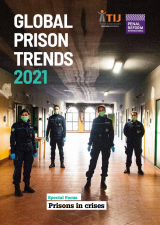 Global Prison Trends 2021 is the seventh edition of Penal Reform International's annual flagship report published with the Thailand Institute of Justice, identifying the key trends and challenges in prison systems worldwide.
This report documents key trends over the past year, especially the impact of the pandemic on prison populations and staff, and how prisons worldwide have responded to these challenges. It outlines the impact of the global pandemic on prison populations and staff, showing that in the face of the COVID-19 crisis millions of people in prison have suffered as a result of preventive measures, at a huge cost to their mental health and human rights.
Among others, key findings documented in the 2020 report include:
COVID-19 release schemes have done little to halt the rise in prison populations
There are 11 million people in prison globally – a rise of about 8 per cent over the last 10 years. At least 109 countries adopted measures to release people from prison in response to the pandemic, but many were abandoned or ineffective.
People continue to face increased risk of COVID-19 in prison
People in prison are especially vulnerable due to cramped living conditions, lack of hygiene supplies and poorer health status.
The overuse of pre-trial detention continues despite the pandemic
Three million people are in pre-trial detention, a rise of 30 per cent since 2000. While some people on remand benefitted from release schemes, COVID-19-related arrests led to an increase in the use of pre-trial detention.
The pandemic has exacerbated failures in prison healthcare
Many prison systems have failed to implement critical COVID-19 preventive measures. Low levels of medical staff and resources for healthcare have been further stretched, which, coupled with restrictive regimes, has affected healthcare provision in prisons – both for COVID-19 and other health conditions.
The prevention of COVID-19 outbreaks in many prisons came at a cost to human rights
Many rights have been violated under severe restrictions. Regimes of solitary confinement, or at least measures where people were isolated, quarantined or confined in groups, have been in place for months.
COVID-19 measures in prisons have had a devastating effect on mental health
The pre-pandemic mental health crisis in many prisons globally has reached grave new levels due to COVID-19 restrictions, and the suspension or downgrading of mental healthcare provisions. Data shows that self-harm and suicide rates have risen among some prison populations.
There are major issues in data collection and transparency in prisons
Long-standing shortcomings in data collection and transparency in prisons have been highlighted during the pandemic.
Many of the key issues outlined in the Global Prison Trends 2021 report were examined in IPRT's Irish Prisons and COVID-19: One Year On briefing. For an overview of the Irish context on many of the issues listed above, read IPRT's briefing here.
Read Global Prison Trends 2021 on the Penal Reform International website here.