Round-up: CPT Report 2020
25th November 2020
IPRT responded in the media to the publication of the seventh report on places of detention in Ireland from the Council of Europe Committee for the Prevention of Torture and Degrading Treatment (CPT) was published on 24th November 2020. The report itself is available here. IPRT's statement in response to the report is available here.
IPRT Executive Director Fíona Ní Chinnéide spoke on RTÉ Morning Ireland about the findings of the report, with a specific focus on mental health.
Discussing the CPT recommendations, Fíona stated:
"Just under eight per cent of committals to prison in 2019 declared themselves as of no fixed abode, we're seeing increasing numbers of people in prison serving short sentences when it is acknowledged in policy and in law that community service is more appropriate and should be the default option and on top of that we're seeing increasing numbers of remands for public order and social code offences - this has to be linked to the situation of homelessness on the streets.

"Nobody should be in prison for want of shelter in the community,"
Referring to one of the upsetting individual cases of the treatment of a prisoner with a mental health issue, Fíona continued:
"We're talking about somebody who is very unwell. It's a damning reflection on us all. It is done in our name, but it's really important to emphasise that prison staff should not be treating these people, they are in an inappropriate facility, they should be in therapeutic care facilities."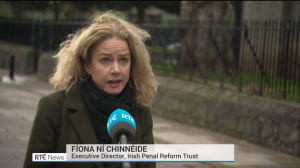 Fíona later appeared on RTÉ Six One News, further commenting on conditions experienced by those who are acutely unwell in prisons and in need of psychiatric care. Fíona called on the Minister for Justice and the Minister for Health to work together to respond to this report.

Media: