2019 Annual General Meeting of IPRT
18th September 2019
The 2019 Annual General Meeting of the Irish Penal Reform Trust took place on  Wednesday 18 September 2019 in the Camden Court Hotel, Camden Street, Dublin 2. The IPRT Annual Review 2018-2019 was launched at the AGM.
Members' event
Following the AGM, Siobhán Cafferty, Social Enterprise Project Manager with the Probation Service and Irish Prison Service, spoke about the challenges for people leaving prison in accessing employment, and where social enterprise fits within employment strategies for people with criminal records.
Photographs from the 2019 AGM and members' event are available on our Flickr.
If you would like to become a member or renew your membership, you can do so here or by contacting lwhitty@iprt.ie
Members' Event: Speaker Biography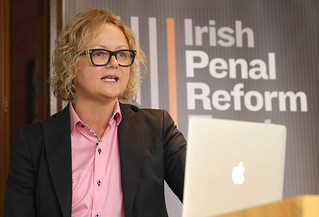 Since 2016, Siobhán Cafferty has been the Social Enterprise Project Manager with the Probation Service and Irish Prison Service, where she is responsible for developing social enterprise and employment strategies for the Irish criminal justice sector. Prior to this, Siobhán was the Executive Manager with the Bridge Project, an organisation that works collaboratively with individual offenders to develop their potential and work towards employment and reintegration. She has also formerly worked with Pavee Point as its Drugs Programme Coordinator.
Siobhán was central in the development of the Department of Justice and Equality's Social Enterprise Strategy, entitled A New Way Forward 2017-2019. The strategy promotes the use of social enterprises – businesses that provide an essential social function in their community and reinvest their profits within that community – as a means to provide available and sustainable employment for people with criminal convictions. The A New Way Forward strategy recognises that securing employment on release is a critical factor in reducing reoffending, promoting active citizenship, and in the creation of safer communities.
Siobhán's work has highlighted the extensive possibilities of this sector in addressing social inclusion, unlocking individual potential, and building better communities. She has written about the risks and rewards of the social enterprise model in the Irish Probation Journal. And she has advocated for the improvement of infrastructure in order to support the growth of social enterprises within the criminal justice sector. Her work has highlighted the benefits of social enterprise as a means to increase employment prospects for people with criminal convictions and to assist with their successful reintegration back into the community.