Ebulletin #102
4th August 2019
IPRT Ebulletin
News from IPRT Executive Director
IPRT Team ~ Exits and Entrances
Save the Date: IPRT AGM (Sept) and PIPS 2019 (Oct)
Passage of Parole Bill 2016
IPRT presents to Joint Committee on Justice and Equality on Spent Convictions
IPRT in the News
Restorative Justice: Strategies for Change
Policing Authority: Invitation to Tender
Add your voice - become a Friend or Member
See the Mailchimp version here. 
Subscribe to IPRT news here.
---
News from IPRT Executive Director
Dear Members and Friends, 
Welcome to third edition of the IPRT ebulletin of 2019, following another busy period of active engagement and developments, including: the passage of the Parole Bill 2016 - a long-standing objective of IPRT; an appearance before the Joint Oireachtas Committee on the need for improved spent convictions legislation; and the announcement that a Prison Service Board, with an independent chairperson, is to be established. 
At the same time, numbers in prison are now constantly above 4,000 (having dropped to below 3,600 in July 2017); over 500 men are on restricted regimes - the majority of these are locked up for 21 or more hours a day; and there are 20-30 people awaiting transfer from prison to the Central Mental Hospital at any time. The European Committee for the Prevention of Torture (CPT) is due to visit Ireland later this year to report on conditions in places of detention. IPRT believes this offers a useful timeline for Government to ensure progress on improved accountability mechanisms and implementation of penal policy recommendations. IPRT will be reporting on progress later this year in PIPS 2019.
An important part of IPRT's work is engaging in public and political debate. This period has been as busy as ever; you can read some recent highlights here with more on the IPRT website.
The IPRT Annual General Meeting takes place Wednesday, 18th September in the Camden Court Hotel. We look forward to marking the significant progress we have already achieved on our Strategic Plan 2017-2021, and to sharing our plans for the upcoming 12 months. This year has been a key period for sustaining IPRT's future, with a number of important grants due to end. We are pleased to report positive feedback from our donors and strong progress on securing core funding for 2020-22. A full update will be shared at the AGM. In the meantime, we are continuing to work hard to broaden financial support for our effective work bringing about systemic change in Ireland's penal system.
As we celebrate the 25th anniversary of our foundation this autumn, now more than ever, we believe penal reform can have a transformative effect on our communities. Over the coming months, we will be asking our friends and supporters to contribute to IPRT and help keep penal reform on the agenda.
For now, we wish you all a pleasant rest of summer,
Fíona
Fíona Ní Chinnéide Executive Director
---
IPRT Team ~ Exits & Entrances
There have been a number of changes to the IPRT team. In July, the team said goodbye to our Campaigns Officer, Pamela Drumgoole, who has taken up a new position with Merchant's Quay Ireland. Pamela has been responsible for driving IPRT's top class digital media presence since 2017, along with our new logo and website which will be launched at the AGM in September. We miss Pamela enormously, but IPRT's loss is definitely MQI's gain!
In July, we were delighted to welcome Sarah Curristan to the team - Sarah is part of the Trinity College Dublin PRILA project, and is assisting with IPRT communications until September. At the end of July, Rebecca Connolly joined the team on our volunteer programme, and Mairéad Deevy BL is volunteering with IPRT in August. We are delighted to welcome everyone to the team.
New opportunities to work with IPRT will be advertised at end August - please keep an eye out on Activelink and @IPRT on Twitter and Facebook.
---
Save the Date: IPRT AGM and PIPS 2019
(i) IPRT AGM: 18th Sept 2019
The 2019 Annual General Meeting of the Irish Penal Reform Trust will take place on Wednesday 18th September 2019 from 5.45pm-7pm in the Camden Court Hotel, Camden Street, Dublin 2. The IPRT Annual Review 2018-2019 will be launched at the AGM. Following the AGM, we will have a members' event (details to follow). If you would like to become a member or renew your membership in advance of AGM, you can do so here or by contacting lwhitty@iprt.ie
Proceedings of the 2018 AGM can be accessed here.
(ii) PIPS 2019: 25th Oct 2019
IPRT is currently working on the third in our series of annual reports on Progress in the Penal System ('PIPS'). The reports provide a comprehensive analysis of progress over the previous 12 months in meeting human rights and best practice in the Irish penal system. An interactive version of the most recent report is available at pips.iprt.ie   The forthcoming 2019 report will be launched on Friday 25th of October 2019 in the Irish Human Rights and Equality Commission. Save the date now and we hope to see you there!   
This 3-year flagship project is kindly supported by The Community Foundation for Ireland

---
Parole Bill 2016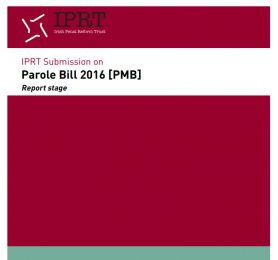 The Parole Bill 2016 passed through both houses of the Oireachtas on Thursday, 11th July 2019. The Bill, when signed and enacted, will place the Parole Board on an independent statutory footing, with the power to make final decisions on the release of eligible prisoners.
IPRT has been advocating strenuously for reform of the parole system over many years, and for parole decision-making to be coherent, transparent, fair, and removed from political control. Our activities towards this goal have comprised research papers and submissions, Oireachtas engagement and law seminars, and extensive media debate. You can find out more about our work in the area of parole reform here.
The Parole Bill 2016 (when signed, the Parole Act 2019) introduces new provisions including access to legal representation for parole candidates and for victims, and a role for the Parole Board in providing information to victims and the general public in relation to its functions. However, the Bill increases to 12 years the number of years before a life-sentenced person becomes eligible for parole. IPRT will be working hard to ensure that that sentence planning and rehabilitative work begins early in a life sentence, and is not delayed until the first parole review is scheduled.
For more on this, read here.
The Bill, as passed by Dáil Éireann, is available here.
For more information on IPRT's work on parole, see: http://www.iprt.ie/parole
---
IPRT present to Joint Committee on Justice and Equality on Spent Convictions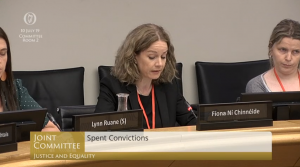 [IPRT Executive Director Fíona Ní Chinnéide. Photo: Oireachtas TV.]
IPRT appeared before the Joint Committee on Justice and Equality on Wednesday 10th July 2019 to give evidence before the Committee's examination of spent convictions legislation. One of our long-standing campaigns is for an effective spent convictions scheme in Ireland – one that allows people who have stopped offending move on with their lives. IPRT was represented by Fíona Ní Chinnéide and Michelle Martyn. Other witnesses before the Committee included: Senator Lynn Ruane, Dr TJ McIntyre (UCD), and Niall Walsh (Pathways).
IPRT welcomes Criminal Justice (Rehabilitative Periods) Bill 2018 as a step towards a fairer system, and welcomes in particular the introduction of a new approach to offenders aged 18 to 23. However, our position is that this Bill could go much further to facilitate reintegration and rehabilitation. Our recommendations are as follows:
Remove the limit on the number of convictions that can become spent. 
Expand the eligibility of convictions that can become spent.
Incentivise rehabilitation by setting proportionate and reasonable rehabilitative periods.
Enhance public safety through legislation and policy.
Recognise that rehabilitation is at the heart of a victim-centred criminal justice system.
IPRT's Opening Statement to the Committee is available here.
A video of the Committee meeting is available on the Oireachtas website, with IPRT appearing from 00:41:50.
For our previous work on spent convictions, see www.iprt.ie/spent-convictions
This campaign was kindly supported by The Community Foundation for Ireland.

---
IPRT in the News
IPRT plays an important role in promoting informed public debate on issues relating to penal reform and the use of prison as a sanction of last resort, engaging in over 100 broadcast and print comments every year. Recent engagement across national and local media has focused in particular on life-sentencing and parole; the need to strengthen the Office of the Inspector of Prisons; and community-based alternatives to prison. Highlights since the last ebulletin include:
---
Restorative Justice: Strategies For Change
In collaboration with nine other European countries, Ireland is participating in a new cross-European venture entitled 'Restorative Justice: Strategies for Change'. The objectives of the project are:
to contribute towards refocusing European criminal justice systems, agencies, policies and practices towards restorative principles and processes; and
to determine how the Council of Europe Recommendation CM/Rec (2018) concerning restorative justice in criminal matters could be used to support this work.
'Restorative Justice: Strategies for Change' aims to help embed restorative justice and restorative practices within the Irish criminal justice system, to build on existing practices, and to stimulate new work that will  address the current gaps in policy and practice.
The first output from the four-year project, A Collective Strategy for Ireland 2019-2023, is available on the Probation Service website here.
If you have any questions, or would like to join the Stakeholder Group, you can contact Dr. Ian Marder of Maynooth University at ian.marder@mu.ie
---
Policing Authority: Invitation to Tender
The Policing Authority has issued an invitation to tender for research that examines the experiences of victims of crime in respect to their interactions with An Garda Síochána. Submissions for this tender are expected to address:
the nature and quality of the experience, focusing in particular on aspects relating to the obligations of  An Garda Síochána under the Criminal Justice (Victims of Crime) Act 2017 and the Victims' Directive;
 
the impact of the above on aspects such as victims' view of the police, willingness to report again, willingness to cooperate and to proceed with prosecution, or on the long term impact of the crime on the victim; and
 
the effects of the implementation of a number of An Garda Síochána initiatives in recent years intended to improve the experiences of victims in the criminal justice system. 
The Request for Tender (RFT) for this research has been published, and further information is available on the etenders website here. The deadline for receipt of completed tender responses is 15:00 on 27th September 2019.
---
Add your voice – become a Friend or Member
IPRT relies on a network of committed supporters who share our vision for change. By becoming a Friend or Member of IPRT, you add your voice to our campaign for a more humane and equitable penal system.
To find out more about supporting our work, please visit our Friends or Membership pages.
IPRT relies on donations from charitable trusts, individual donations and membership subscriptions to cover operational costs. Our CHY number is 11091.We have also received funding from two donor-advised funds and two project funds managed by the Community Foundation for Ireland, we were one of the awardees for the inaugural Human Rights and Equality Grants Scheme of the Irish Human Rights and Equality Commission, and we received a donation from the St. Patrick's Cathedral Community Giving & Charitable Funds in 2017 and 2018.

The Scheme to Support National Organisations is funded by the Government of Ireland through the Department of Rural and Community Development.