IPRT response at webinar: Judicial Discretion and the Justice & Welfare Dichotomy
23rd May 2022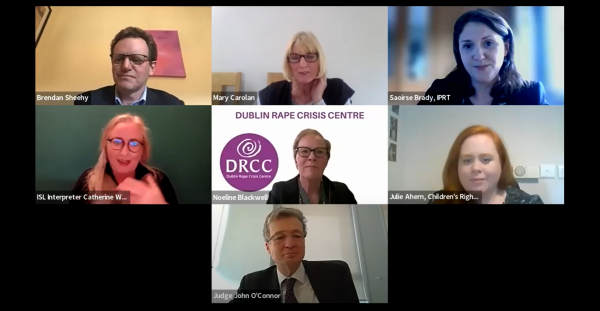 [L-R, T-B: Brendan Sheehy (Department of Justice), Mary Carolan (The Irish Times), Saoirse Brady (IPRT), ISL Interpreter, Noeline Blackwell (DRCC), Julie Ahern (CRA) and Judge John O'Connor. Photo: Webinar recording, DRCC Youtube.]
Dublin Rape Crisis Centre (DRCC) and the Children's Rights Alliance (CRA) hosted a webinar on 'The Judicial Discretion and the Justice & Welfare Dichotomy: The Sentencing of Child & Adolescent Sexual Offences in the Irish Youth Justice System' on 23 May 2022. The keynote address was given by Judge John O'Connor, who recently completed his doctorate on the sentencing of underage sexual offenders. 
IPRT Executive Director Saoirse Brady was a panel respondent at the webinar, alongside Brendan Sheehy (Department of Justice), Julie Ahern (CRA) and Noeline Blackwell (DRCC). The panel was chaired by Mary Carolan (Legal Affairs Correspondent, The Irish Times).
Saoirse's comments focused on:
The need for distinct approaches to young people aged 18-24 (as supported by neuroscientific research);
The importance of proportionality and the avoidance of 'one-size-fits-all' approaches;
The need for stronger data collection in this area, particularly tracking the outcomes for children in the youth justice system and outcomes for them;
The welcome commitments in the Youth Justice Strategy 2021 - 2027 to undertake research on emerging trends, including sexual offences; and
The need to promote awareness of and resourcing of NIAPP (National Interm Agency Prevention Programme), which provides community-based treatment to young people, male and female, between the ages of 13 and 18 years, who have sexually abused and their parents and carers.

A recording of the webinar is available on the DRCC YouTube. Saoirse's comments commence at 1:06:33 – click here to jump to this timecode.

Judge O'Connor's thesis The sentencing of child and adolescent sexual offences in the Irish youth justice system: judicial discretion and the justice/welfare dichotomy is available on the Nottingham Trent University website.