IPRT welcomes extension of youth diversion projects and initiatives
15th May 2015
IPRT welcomes two announcements in the area of youth justice this week by Minister for Justice and Equality Frances Fitzgerald TD. Taken together, investment in these initiatives demonstrates a positive commitment by Government to acting on the evidence that intervention, prevention and diversion makes social and economic sense, and reduces crime. 
On Thursday 14th May, Minister Fitzgerald launched KEY - Kerry Empowering Youth service in the Royal Irish Academy. On Friday 15th May 2015, the Minister also announced the allocation of €2.8 million to extend Garda Youth Diversion Projects to ten new locations around the country; 14 existing project will also receive additional staff. IPRT particularly welcomes the provision of funding for a project which specifically engages "hard to reach" young people involved in criminal activity.
These announcements come the same week that IPRT launched a new report, Turnaround Youth: Young Adults (18-24) in the Criminal Justice System ~ the case for a distinct approach, in which we argue for the extension of effective models of practice, such as Garda diversion projects, to young adults aged over 18.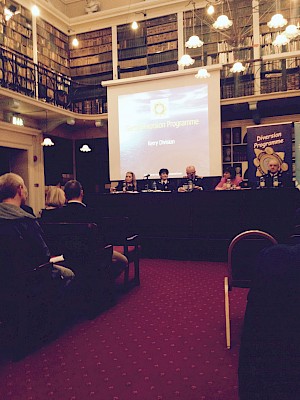 According to merrionstreet.ie: "'Kerry Empowering Youth – KEY', A Kerry Garda Youth Justice Divisional Model is Ireland's first Garda Divisional Model of Youth Justice programmes delivery.
In 2013, Kerry Diocesan Youth Service who delivered 6 Garda Youth Diversion Projects across Kerry, wanted to be able to reach young people who lived outside of the catchment area of the locations of the projects. Garda Youth Diversion Projects are run by community-based organisations on behalf of An Garda Síochána working in partnership with the Irish Youth Justice Service (IYJS).
Together, Kerry Divisional Garda Management, local Garda Juvenile Liaison Officers KDYS Management and Youth Justice Workers in the projects (with support from Community Programmes, IYJS), developed a pilot model of delivery to extend the Garda Youth Diversion Project service out to the entire county within existing resources.
The new service delivery model has been very successful and has enabled KDYS in partnership with Kerry Divisional Gardaí to reach over 100 young people so far who would not have otherwise received support from trained Youth Justice Workers. While overall nationally, referrals to the Garda Youth Diversion Programme are down, innovative models of delivery will allow access to supports from Youth Justice Workers to be expanded to deliver services to young people currently beyond their reach and to target resources more effectively."
IPRT welcomed this launch of this project, which seeks to divert young people away from the criminal justice system and engage them with services and activities within the community. 
Read more: