The Atlantic Philanthropies: How a Small Advocacy Organization Advanced Big Reforms
27th April 2016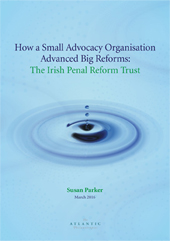 This case study describes how the Irish Penal Reform Trust (IPRT), a small organization with limited resources, successfully implemented an advocacy strategy that led the Irish government to take steps to improve conditions and reduce overcrowding in the country's prisons.
The case study was commissioned by The Atlantic Philanthropies, a key provider of core-funding to the Irish Penal Reform Trust from 2008-2016.
Read the case study here.