Ebulletin #89
21st December 2016
Introduction
Season's Greetings from IPRT
IPRT: A Year in Review
Inspector of Prisons, Judge Michael Reilly
Christmas Temporary Release and Christmas Prison visits
Update on Friends Event
Prison Reform Updates
Events: Design & Violence Exhibition/ Gáisce Awards Ceremony
Become a Member
See the Mailchimp version here.
Subscribe to IPRT news here.
________________________________
Introduction
Welcome to the sixth edition of the IPRT Ebulletin in 2016.
Although it has only been a month since our last Ebulletin, a lot has been happening. IPRT held an event on Monday 12th December with mulled wine and mince pies in the Morrison Hotel to thank our existing Friends and generate support from some new ones. It was also a chance to mark the untimely passing on 26th November of the Inspector of Prisons, Judge Michael Reilly (who had agreed to speak at the event), and honour his enormous contribution to the protection of dignity and human rights in the Irish prison system.
IPRT also recently completed work on our new Strategic Plan and Priorities for 2017-2021. IPRT works to reform the penal system by: ensuring that Ireland's penal policy and practice complies with human rights standards and strives towards international best practice; promoting equality and combatting social injustice and campaigning to ensure prison is only ever used as a sanction of last resort.
IPRT has identified three long-term strategic priorities. These are the development of:
a national penal policy which is just, humane, evidence-led, and uses prison as a last resort;
a national penal system which protects and promotes human rights and strives to achieve international best practice in its regimes, daily practices and overall culture;
IPRT as a sustainable, well-resourced, respected and collaborative stakeholder in penal policy in Ireland.
The tools we will use to achieve these aims are: the production of high-quality research; the creation of evidence-informed policy solutions; advocacy and campaigning at domestic, European and UN levels; public communication and awareness raising; and building alliances and capacities.
2017 already looks set to be another busy year, with our new annual project on benchmarking human rights in prisons in Ireland, an evidence-based research and awareness campaign towards the abolition of the use of solitary confinement in Ireland, Ireland's hearing before the Committee on the Elimination of Discrimination Against Women (CEDAW) in Geneva in February 2017, and our examination by the UN Committee against Torture in July 2017.
Finally, everyone at IPRT also sends their congratulations to Executive Director Deirdre Malone and her husband Cormac on the arrival of baby Dylan! We wish them the very best for their first Christmas together, and look forward to Deirdre's return to IPRT in October 2017.
After the Christmas and New Year break, IPRT looks forward to continuing to engage with you, our supporters, in campaigning for rights in the penal system and the progressive reform of Irish penal policy.
In the meantime, we wish all our members and friends a happy and peaceful festive season, with very best wishes for 2017!
Fíona, Michelle, Lorraine, Aoife and Neil
As always, we welcome your feedback and comments. Contact Lorraine Whitty, Membership & Communications Officer: lwhitty@iprt.ie
________________________________
Season's Greetings from IPRT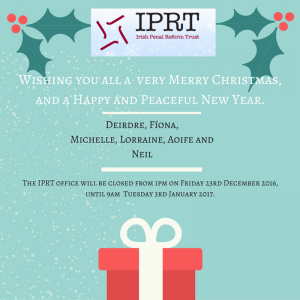 ________________________________
IPRT: A Year in Review
Maintaining our national impact, raising awareness, and continuing to challenge the status quo.
IPRT campaigns for long-term, real change in Ireland's penal system and penal policies, with real achievements in recent years. We are very proud of what our small team of just 3-4 staff, supported by a dedicated volunteer board and interns, manage to achieve every year. 2016 was no different - here are just some of the highlights:
Seminars & Events:
IPRT staff also delivered many presentations, conference papers and guest lectures at conferences, in prisons, and to university students around Ireland and abroad in 2016.
Submissions:
IPRT made oral and written submissions to national and international processes throughout 2016, The following are just a small number of highlights:
Updated IPRT Submission on the Criminal Justice (Spent Convictions) Bill 2012 (January 2016);
Submission to Children's Rights Alliance Report Card (September 2015 and updated January 2016);
Submission to the Parallel Report to Ireland's Third and Fourth Combined Report under the UN Convention on the Rights of the Child coordinated by the Children's Rights Alliance (February 2015, hearing January 2016);
Submission to Oireachtas members in advance of parliamentary debates on the Criminal Justice (Spent Convictions and Certain Disclosures) Bill 2016 (February 2016);
Submission to Irish Prison Service Capital Strategy 2016 - 2021, with focus on ending slopping out in Limerick and Portlaoise Prisons, on appropriate facilities for older prisoners, and on increased provision of open prison and step-down facilities for all prisoners (January and April 2016);
Submission to Irish Prison Service Strategic Plan 2016-18, with particular emphasis on the new public sector equality and human rights duty under Section 42 of the Irish Human Rights and Equality Commission Act 2014 (March 2016);
Submission to the Department of Education and Skills on its Statement of Strategy 2016-2018 (June 2016);
Submission to the National Women's Council of Ireland (NWCI) CEDAW Shadow Report (September 2016);
Submission to the Irish Human Rights and Equality Commission on their Public Consultation on CEDAW 2017 (September 2016);
Preliminary Submission to the Irish Prison Service Working Group on Life-Sentenced Prisoners (November 2016);
Joint Civil Society Submission to the Operational Review of Oberstown Campus (December 2016) (The Joint Submission included Barnardos, Children's Rights Alliance, EPIC & the Jesuit Centre for Faith & Justice).
Research projects:
During 2016, IPRT worked on a number of discrete research projects:
Community Service Orders versus short custodial sentences: examining profiles, experiences, and outcomes, conducted by employment-based PhD candidate Kate O'Hara (co-funded by the Irish Research Council);
Rights and needs of LGBT people in prison;
Rights and needs of older people in prison;
Turnaround Youth II: Mental health needs and provision for young adults in the criminal justice system;
EU Project: Practice of Pre-Trial Detention: Monitoring Alternative and Judicial Decision Making (Fair Trials International);
EU Project: Prison Litigation Network project (University of Florence);
EU Project: Improving Prison Conditions by Strengthening Infectious Disease Monitoring (Harm Reduction International);
Solitary Confinement in Ireland (forthcoming in 2017).
Media:
In our 'spare' time, IPRT also engages with the general public and media debate on relevant issues:
6 e-bulletins;
2 TV appearances;
34 radio interviews;
83 print & online news stories.
Fundraising:
Our attention was also taken up by the longer-term sustainability of the organisation. Through the hard work of the IPRT Futures Group, Executive Director, Board and Staff, IPRT have now secured a sustainable financial position for the organisation to not only 'survive' but to 'thrive' post 2016, which will see us through to our 25th year, when we will celebrate a quarter of a century of penal reform in Ireland.
All of this work was achieved alongside responding to queries from prisoners and their families, answering queries from people with unspent convictions, constant monitoring of media, policy and relevant legislation, together with all the day-to-day work that comes with running an organisation.

This is only achievable with such a small team through hard work and dedication, and also with the support of our volunteer board and interns!
If you value the contribution IPRT has made over recent years, and believe our work should continue into the future, please consider showing your support by becoming a member or becoming a Friend of IPRT or simply making a donation.
If you would like to know more about how we spend donations, please contact Fíona Ní Chinnéide, our Acting Executive Director.
________________________________
Inspector of Prisons, Judge Michael Reilly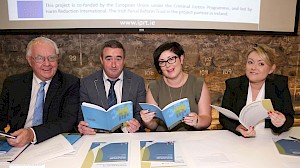 Judge Michael Reilly at the launch of IPRT's "Improving Prison Conditions" Report on 23rd June 2016.Photo by Derek Spiers.
IPRT was deeply saddened to hear of the untimely passing of Judge Michael Reilly on November 26th 2016. A strong champion of the human rights of people in prison and their families, Judge Reilly was Ireland's second Inspector of Prisons, and took up office on 1st January 2008. Judge Reilly set out the standards he expected of prisons in Ireland, grounded in national and international laws and standards, and was particularly sensitive to the needs of vulnerable groups in our penal system, such as women, children and those with mental health issues. His reports on St. Patrick's Institution (2012) and Mountjoy's Separation Unit (2014) were pivotal in bringing about the closure of both institutions.
Both his inspection reports and deaths in custody reports shone an important light on the day-to-day workings of the penal system, and the vulnerability of those connected with it. His most recent work on the operational workings of the Irish Prison Service (IPS), focusing on the complaints procedure and the culture of the IPS as an organisation, contain important recommendations which IPRT hope will soon be implemented. Judge Reilly was always very generous in engaging with IPRT, participating in many of our events, and we offer our sincere condolences to his family, friends and colleagues. For more on Judge Reilly's work, please read here.
________________________________
Christmas Temporary Release and Christmas Prison Visits

Image from "Artwork in Prisons" Exhibition, Kilmainham Gaol Museum, Mar-Apr 2012.
The Irish Prison Service has said that no visits will be facilitated at any prison on Christmas Day this year, as it falls on a Sunday, when the facilities are usually closed to visitors. As reported in the Irish Examiner on 19th December 2016, a spokesman for the Irish Prison Service (IPS) said that: "Not having visits on Christmas Eve is borne out of our experience of visitors not wanting to attend the prison on that day".
IPRT research has found that approximately 6,000 children have a parent in prison in Ireland on any given day. Last year, 204 prisoners — approximately 5% of those serving time in Irish prisons — were granted temporary release for Christmas. Fíona Ní Chinnéide, Deputy Executive Director of IPRT was quoted in the Irish Examiner article as saying "We would be concerned if there is any reduction in visiting hours, particularly at this time of year which is hard for those on the inside, but particularly so on their families and children on the outside."
IPRT's 2012 report "Picking Up the Pieces" talks to the importance of maintaining relationships for both the prisoners & family members of prisoners, and prison visits are an integral part of this.
To read the article in the Irish Examiner, click here.
________________________________
IPRT Friends Event

Image from "Artwork in Prisons" Exhibition, Kilmainham Gaol Museum, Mar-Apr 2012.
We would like to thank all who attended our Friends event in the Morrison Hotel on December 12th. During the event, which was chaired by Her Honour Judge Melanie Greally, Dr. Mary Rogan paid tribute to the work of the late Inspector of Prisons, Judge Michael Reilly, and Facing Forward's Barbara Walshe and Tim Coughlan's shared their experiences of Restorative Justice in practice.

As explained on the night, the strength of our donors, Friends and members is integral to the work of IPRT. If you would like to join this network of support, please read more here. To find out more about Restorative Justice, click here.
________________________________
Prison Reform Updates
Recent developments in the area of prisons and penal reform
A. Solitary Confinement Bill
On December 1st, the Prisons (Solitary Confinement) (Amendment) Bill proceeded to the committee stage. If passed, the Bill will introduce a definition of solitary confinement in Irish law for the first time and will statutorily restrict the practice. The Bill caps solitary confinement of 22 hours or more to a maximum of fifteen consecutive days and to thirty days annually. It seeks to protect prisoners with mental illnesses and those on remand, and stresses that the measure must only be used as a last resort. Read more here.
B. Bail Reform Bill
On December 6th, Tánaiste Frances Fitzgerald brought the Bail Amendment Bill before Cabinet. The Bill widens the grounds upon which bail can be denied, and attaches greater conditions to those released on bail. It includes measures to restrict media coverage of evidence given by children and those with mental illnesses, and instructs the court to provide reasons for the approval or denial of bail. IPRT welcomes an increasingly transparent bail system, but cautions against the possible overuse of bail conditions. Read more here.
C. Central Statistics Office (CSO) Data on Recidivism
On November 6th, the CSO released recidivism data relating to prisoners released in 2010. 45% of prisoners released in 2010 reoffended within three years, with men being more likely to reoffend than women. There was roughly a 2% reduction in recidivism overall when compared to the 2009 cohort, as the reoffending rate for both men and women fell. However, while the recidivism rate for women aged 21 and under fell by 13%, the rate of reoffending for women aged 51 and over rose by almost 9%. Of those who reoffended, over two-thirds did so within six months of their release. Read more here.
D. Concern over Prison Deaths
An investigation by TheDetail.TV's Claire Smyth has raised serious concerns over the scale of prison deaths across the island of Ireland. In the Republic, 129 people died while serving their sentences over the course of the past decade. Nearly one-third died while finishing their sentences on temporary release. To find out more, click here. The investigation included an interview with the late Judge Reilly, which is available (with the consent of his family to publish) here.
________________________________
Events
Science Gallery: Design and Violence Exhibition
An exhibition, 'Design and Violence', is currently running at the Science Gallery Dublin until 22nd January 2017. Co-produced with the Museum of Modern Art, New York, the exhibition is a display of 'objects and systems at the intersection of design and violence', illustrating how both can act 'for and against power and the realisation of social change'. IPRT were pleased to take part in a workshop attended by transition year students. One of the exhibits is the Solitary Confinement Experience installation. For more, see the exhibition website here.
Gáisce Awards Ceremony
IPRT were delighted to attend an awards ceremony in Mountjoy West, when three men received their Gáisce Awards from President of Ireland Michael D Higgins, in early December. Governor Brian Murphy and Gáisce CEO Yvonne McKenna congratulated all three on their commitment and achievement in completing the challenge, and President Michael D. Higgins presented the one Gold and two Silver Awards to the three men. The Gáisce Award is the President's Award for young people aged between 15 and 25, and requires participants to complete challenges in four key areas (community involvement, personal skills, physical recreation and an adventure journey) over a period of 26 weeks for a Silver Award, and 52 weeks for a Gold Award. IPRT would again like to congratulate the three awardees and all who supported them on their fantastic achievement.
________________________________
Become a Member
Would you like to become a member of IPRT?
Annual membership is just €10 for students, €40 for individuals, €80 for organisations/firms, and free to prisoners and their families.
We can't promise you lots of free stuff, but by becoming a member of IPRT you will be expressing your support for urgent penal reform in Ireland. Why not consider becoming an IPRT member now?

IPRT receives core funding from the Joseph Rowntree Charitable Trust and:


Irish Penal Reform Trust | MACRO Building | 1 Green Street | Dublin 7 |
T: +353 (0)1 8741400 | E: info@iprt.ie | W: www.iprt.ie
unsubscribe from this list update subscription preferences

"Respect for rights in the penal system with prison as a last resort"