"It's like stepping on a landmine…" - Reintegration of Prisoners in Ireland
24th May 2010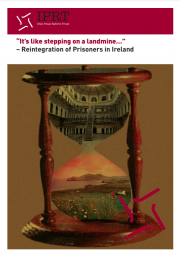 This report from IPRT assesses the current provision of reintegration services and support for prisoners before and after their release from prison, identifies key systemic failures, and makes 14 clear recommendations for necessary improvements.
Statistical analysis indicates that, at present, 60% of those with prison experience will return to prison at some point. With a prison population that has risen by 65% in the last 12 years – and is set to reach 5,000 by the end of 2010 - the successful reintegration of prisoners is even more crucial than ever.
Download the report here.
Key findings:
There is patchy provision of after-care services to prisoners and a lack of a national framework; a 'post-code lottery' for services sees most concentrated around cities and larger towns.
Access to services in individual prisons is dependent on the facility in which a prisoner finds him or herself on sentence; there is no consistency in approach. Moreover, as new prison places are built, resources are not being increased for the prison staff, Probation staff or education staff to engage with the larger numbers held in custody.
Prisoners are often left to their own devices in relation to finding out what services are available during the sentence and how to access them; often such information is gained only through their contacts with other prisoners and not from those charged with providing custody.
Recent changes within the Probation Service, due to budgetary constraints and increasing numbers of prisoners being released, has seen a significant shift in its focus and priorities. The withdrawal of the welfare function of the Probation Service, together with increased responsibility for Post-Release Supervision Orders and risk assessments, means that the Probation Service now has to focus largely on risk management, and therefore its work covers a limited number of prisoners and ex-prisoners.
Positive initiatives cover only a small number of prisoners, eg. Integrated Sentence Management will only apply to around 30% of prisoners.
All service providers, whether from the statutory or community sectors, have concerns about the limitations placed on their resources by uncertainty about continued funding and significant cuts to existing budgets and staffing levels.
The lack of planning for release and the continuing use of Temporary Release (TR) to relieve pressure on prison spaces rather than using TR as a structured tool to support post-release integration back into the community, impacts negatively ex-prisoners' access to post-release support. Short notice combined with Fri evening / weekend releases means prisoners have difficulty linking in with necessary services on release, including homelessness support, mental health care, and addictions treatment.
The lack of a statutory duty in relation to reintegration (or the duty to co-operate, for example with the Probation Service, by other statutory agencies) has a negative impact on the response to issues faced by ex-prisoners.
Read more:
"It's like stepping on a landmine…" - Reintegration of Prisoners in Ireland received financial support from the Community Foundation for Ireland and the St Stephens Green Trust.