Round-up: Access to Rights for People Detained in Secure Forensic Mental Health Facilities in Ireland
25th October 2022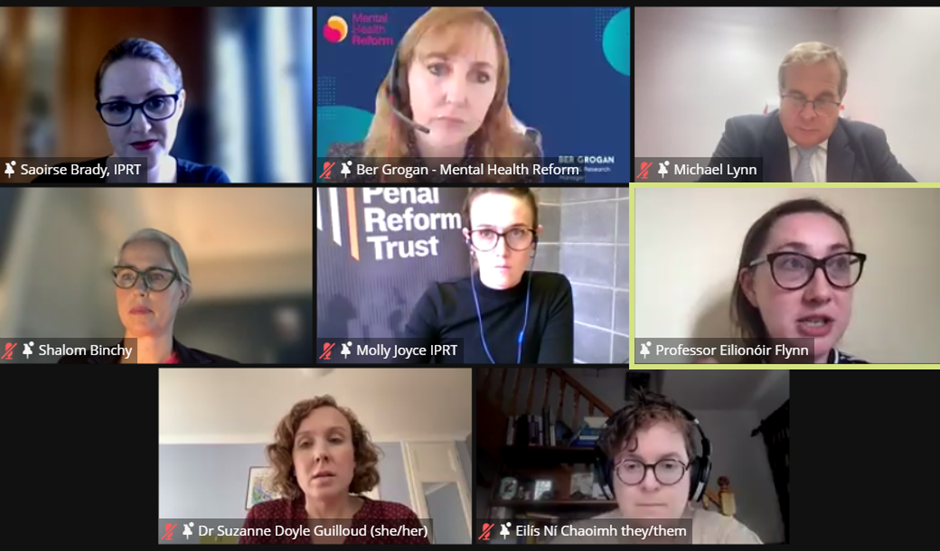 On Tuesday 25 October 2022 the Irish Penal Reform Trust (IPRT) and Irish Criminal Bar Association (ICBA) held a Prison Law Seminar on the topic of Access to Rights for People Detained in Secure Forensic Mental Health Facilities in Ireland. 
This was the first in IPRT's 2022 Prison Law Seminar Series and launched a new IPRT scoping study examining the rights frameworks applicable to people detained in Ireland's Central Mental Hospital (CMH). This important research was funded under the Irish Human Rights and Equality Commission's 2021-22 Grants Scheme and carried out by expert researchers, led by Professor Eilionóir Flynn, at the Centre for Disability Law and Policy, University of Galway.
We were delighted to invite Professor Flynn and her colleagues to present on their research alongside contributions from:
Michael Lynn SC, Barrister
Shalom Binchy, Solicitor and Member of the Policing Authority
Ber Grogan, Policy and Research Manager at Mental Health Reform
Molly Joyce, Legal and Public Affairs Manager at the Irish Penal Reform Trust
The event was chaired by IPRT Executive Director, Saoirse Brady.
The discussion arising during the seminar was very thought-provoking, with speakers commenting on: 
the lengthy periods of time that people can end up spending in the Central Mental Hospital;  
the challenges in reforming our forensic mental health system so as to make it compliant with the UN Convention on the Rights of Persons with Disabilities (UNCRPD), but also the opportunities that this presents; 
the importance of including and listening to people with experience of secure forensic mental health facilities in this conversation; and  
the question of resourcing and how resources can be both increased but also redistributed to achieve a rights-based and more effective model of forensic mental healthcare in Ireland.  
Click here to watch a recording of the seminar on YouTube. The final report can be accessed here.
CPD Points: Attendance at the seminar may qualify for CPD points. Qualification is determined by the points' issuer. IPRT is happy to provide certificates of attendance on request. Please contact info@iprt.ie with the email and name you used to attend the seminar.
IPRT's Legal & Public Affairs Programme is supported through a donor-advised fund of the Community Foundation for Ireland. 
The research in question was supported by the Irish Human Rights and Equality Commission under the Human Rights and Equality Grants Scheme 2021-2022.