All-Party Oireachtas Group on Penal Reform meeting on women in prison
6th July 2022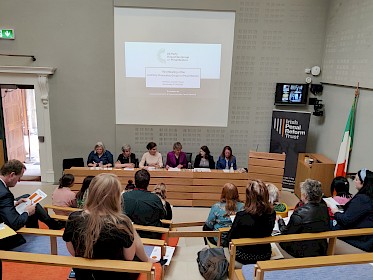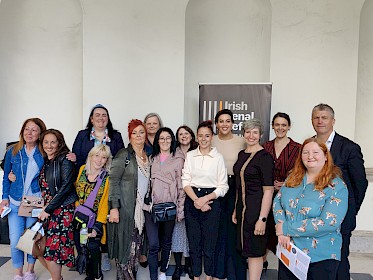 [Left: Attendees at the All-Party Oireachtas Group on Penal Reform meeting. Right: Women from the SAOL Project BRIO Programme, Maria Joyce (National Traveller Women's Forum), IPRT staff, Senator Eileen Flynn, Deputy Jennifer Carroll MacNeill, Carol Conway (Chairperson, Dochás Centre Visiting Committee), and Deputy Pa Daly.]
The third meeting of the All-Party Oireachtas Group on Penal Reform took place on Wednesday 6 July 2022 in the AV Room of Leinster House. The focus of the meeting was the imprisonment of women. This was a closed meeting for members of the Oireachtas and their staff.
The event, chaired by Deputy Jennifer Carrol McNeill and Deputy Ivana Bacik, heard from:
Women from the SAOL Project BRIO Programme, who shared their lived experiences of contact with the criminal justice system and recovery;
Maria Joyce from the National Traveller Women's Forum (NTWF), who focused on the distinct needs of Traveller women in the criminal justice system; and
Carol Conway, Chairperson of the Dochás Centre Visiting Committee, who focused on the importance of prison oversight and meeting our policy commitments on the imprisonment of women.
The meeting also featured short videos featuring women from the SAOL Project and Winnie McDonagh, NTWF Prison Peer Support Worker in the Dochás Centre.
Oireachtas members heard about and discussed issues including: access to alternatives to custody for women; limited access to services in prison (including mental health services, bereavement support etc); reliance on short-term custodial sentences for women with addiction and mental health needs; the need to invest in early intervention and social supports; the impact of female imprisonment on families; and more.

For more information on the All-Party Oireachtas Group on Penal Reform, see here.
Members of the Oireachtas, along with researchers and other support staff, are all very welcome to join the All-Party Oireachtas Group on Penal Reform. To find out more, please contact us.