Oireachtas Briefing on the Criminal Justice (Rehabilitative Periods) Bill 2018
12th February 2019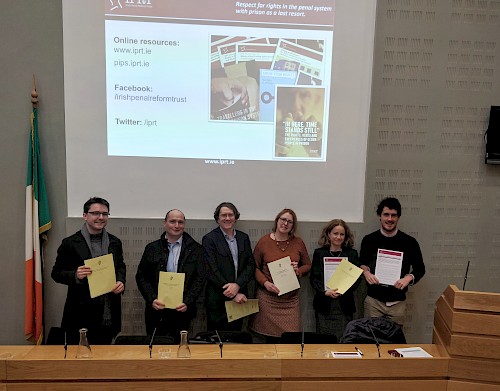 L-R: Jack Eustace, Niall Walsh, Dr TJ McIntyre, Senator Alice Mary Higgins, Fíona Ní Chinnéide, and Seb McAteer. 
On Tuesday 12 February 2019, Senator Lynn Ruane hosted a Briefing on the Criminal Justice (Rehabilitative Periods) Bill 2018 in the AV Room, Leinster House. Chaired by Senator Alice Mary Higgins, speakers were: Fíona Ní Chinnéide (Irish Penal Reform Trust), Dr TJ McIntyre (UCD, Sutherland School of Law), Niall Walsh (Pathways Centre) and Jack Eustace (SpunOut.ie).
At the seminar, IPRT disseminated our briefing on the Bill. The Criminal Justice (Rehabilitative Periods) Bill 2018, if enacted, will increase the number of people who can benefit from spent convictions by broadening the number of convictions which may become spent, provide for proportionality in deciding when a conviction can become spent, and take account of the special position of 18-23 year olds.
Oireachtas members heard about the role robust spent convictions legislation can play in promoting public safety. The recognition of young adults as a distinct group by the Bill can remove some of the "disproportionate blocks on young people" that old convictions can continue to cause.
Oireachtas members also heard that the need for the amendment of our current spent convictions laws is "not desired, but required". Given recent ECtHR and UK Supreme Court rulings, in order to avoid legal challenges, the legislation should be amended. Practical access to the 'right to be forgotten' is also limited for those who do not qualify to have their convictions regarded as spent.
The briefing also highlighted the impact of a conviction on access to education and training opportunities, with the impact of a conviction on a young person often closing off "opportunities for self-development".
IPRT has long campaigned for a mechanism in Ireland which allows for the expungement for certain adult convictions. We welcomed the introduction of the Criminal Justice (Spent Convictions and Certain Disclosures) Act 2016, but believe that it was only the first step. The Criminal Justice (Rehabilitative Periods) Bill 2018 is another step towards a fairer system, but there is more that can be done. For more on what further provisions could be included to promote reintegration and rehabilitation, see our briefing.
IPRT has called on all TDs and Senators to engage positively with the legislation as it progresses. We look forward to Debate of the Bill by the Seanad as it moves to Second Stage on 13 February 2019.