Know Your Rights: Your Rights as a Prisoner
25th February 2021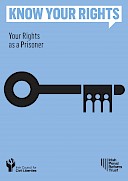 The booklet aims to help prisoners understand the rights they have while in prison. It is written in everyday language and is informative and easy to use.
It is an update of the Irish Penal Reform Trust and Irish Council for Civil Liberties Know Your Rights – Your Rights as a Prisoner booklet published in 2012 and so includes changes made to legal rules or relevant laws since then.
This booklet will also be helpful for family members and practitioners working in the area who want to better understand the rights of their family members or those they are working with.
This booklet does not and should not replace legal advice.
 
Formats:
Download or read a PDF of the booklet here. This version uses Plain English Guidelines.
Download a black and white printable version of the PDF here. This version is the best for home printing.
Download a version with the Plain English Mark here. This is the same text as the above, without design.

IPRT would like to acknowledge the generous support of the Community Foundation for Ireland in producing this pack.