Irish Prisons and COVID-19: Lessons Learned from the Pandemic
13th September 2022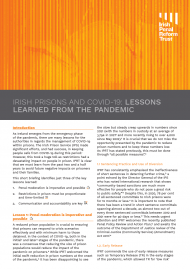 As Ireland emerges from the emergency phase of the pandemic, there are many lessons for the authorities in regards the management of COVID-19 within prisons. The Irish Prison Service (IPS) made significant efforts, and had success, in keeping people safe from COVID-19 during this period.
However, this took a huge toll as restrictions had a devastating impact on people in prison. IPRT is clear that we must learn from the past two and a half years to avoid future negative impacts on prisoners and their families.
This short briefing identifies three of the key lessons learned:
Penal moderation is imperative and possible 
Restrictions in prison must be proportionate and time-limited 
Communication and accountability are key
Under each of these headings, IPRT outlines a range of issues in need of review, including: sentencing practice, early release, pre-trial detention, parole, out-of-cell time, family contact, communications, inspection and accountability, and parliamentary oversight. In total, we make nine recommendations for action.
As Ireland learns to live with COVID-19, it is important that all criminal justice agencies learn from the past two and half years of the pandemic so that the prison system can successfully manage the spread of COVID-19 while avoiding the harmful effects of the restrictions seen during this period. In addition to the recommendations made in this short briefing, IPRT calls for all criminal justice agencies to keep the mental health, wellbeing and personal development of human beings in our prisons at the forefront of their approach to COVID going forward.

Irish Prisons and COVID-19: Lessons Learned from the Pandemic is available here, or can be downloaded below.
A summary of the recommendations is available here, or can be downloaded below.