Temporary release from prison at Christmas
23rd December 2016
Christmas is one of the most difficult times of year for prisoners and their families. Physical separation from loved ones may be an inevitable consequence of the deprivation of liberty, but that does not make it any less traumatic for children and families.
A survey conducted in 2015 found that an estimated 6,000 children in Ireland have a parent in prison on any given day. Not knowing whether your dad/mum/brother/sister/son/daughter/partner/granddad will be allowed home can be especially stressful in the months and weeks running up to Christmas.
"I have two young girls, and it was tough, you know what I mean? Not knowing how they were getting on on Christmas Day was an absolute killer. It woke me up." - See Conor Lally in The Irish Times
For those prisoners who are not granted temporary release, including newly committed prisoners, prisoners on remand (pre-trial) and prisoners from other countries whose families live abroad, it is particularly tough. For some prisoners, who do not have family support on the outside and who would otherwise be homeless, prison might be the safest option at Christmas time (a very sad reflection on Irish social policy).
Christmas releases in Ireland
In Ireland, temporary release from prison over Christmas can range from a few hours, sometimes accompanied by a responsible adult, up to 7 days, with various release conditions attached. Prisoners are more likely to be granted temporary release if they are: engaging with prison services; on enhanced regimes; have complied with conditions on previous periods of temporary release; and are coming towards the end of their sentence.
Number of prisoners in Ireland granted temporary release for Christmas, 2007-16: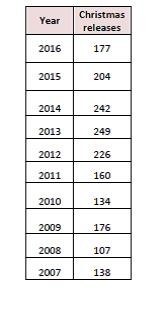 The Irish Prison Service have confirmed that 177 prisoners will be granted varying periods of temporary release for Christmas 2016 under the Criminal Justice Act 1960. This figure represents approximately 4% of the overall prisoner population. The vast majority of prisoners return to prison as arranged. The Irish Prison Service confirmed on 8th January 2017 that of the 177 prisoners granted Christmas Temporary Release 176 had returned to prison in line with the conditions of their release. In January 2015, 3 of 242 prisoners granted temporary release at Christmas failed to report back to the prison on the agreed day and time. In 2013, all 226 prisoners released returned on time. Those who fail to adhere to the conditions of their temporary release can lose earned privileges on their return, including, for example, transfer from an open prison back to a closed institution.
Temporary release plays an important role in prisoner rehabilitation and reintegration. Maintaining relationships with families and communities is one of the strongest protective factors against reoffending after release from prison. Facilitating family contact with prisoners in prison and through temporary release over Christmas plays a crucial part in this.
Read more: